Back in January, I reviewed the original Red Colony (which you can check out here: https://theeliteinstitute.net/2021/01/28/red-colony/). I expected it to be a mess: a terrible game that uses boobs to sell copies. As it turned out, I actually had a pretty fun time with it.
The game certainly had its issues, including cringeworthy storytelling, horrible enemy animations, simple puzzles, and a variety of bugs – not gamebreaking ones, but ones that made it feel unpolished. Despite all that, it was a solid attempt at making a 2D survival horror game.
With the announcement of Red Colony 2, I was interested to dip back into the world to see whether or not they managed to improve on the first game.
Many thanks to Runic Codes for the review copy.
JUG-RASSIC PARK
After a quick recap of the events in the first game, Nicole – the spy who was sent to unleash a virus on the Red Colony – returns to the Blue Colony after experiencing a knock on the head by a mystery assailant. As she comes around, she realises that her own colony has succumbed to the same fate. Nicole must now  find her daughter and escape to the final refuge in Sky City.
If you're feeling a little déjà vu, that's because the character's motivations are pretty much identical to María's from the first game. It's an odd choice to have a plot point that's so similar to the original, but at least the rest of the storyline follows far different beats and is generally told a lot better. Whereas in the original, you'd have the main character moaning about an affair amidst a zombie apocalypse, Nicole and most of the other NPCs remain quite aware of their current predicament and react more appropriately. It's not perfect, but it's certainly an improvement. There's still a lot of cringey dialogue as a result of trying to make it feel like an 'adult' title, but it's handled a lot better. The game also exudes more of a B-Movie feel, which helps it get away with some of the crazy nonsense that happens throughout the game.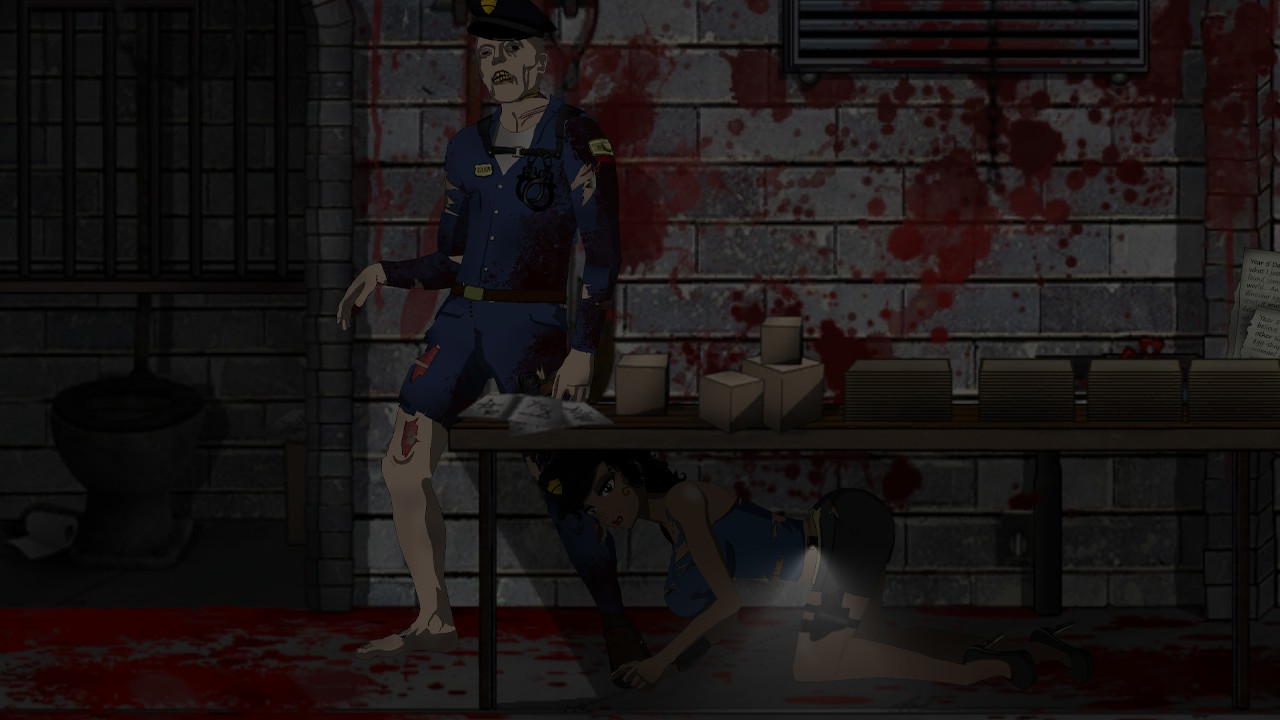 One improvement that makes a huge difference is that the characters' actions change over time. That happened in the first, but only with a few central characters. In this it is far more advanced: conversations will alter as you progress further, but they'll also do different things such as going to different areas or just succumbing to the virus. It's a little touch, but it makes it feel more like a real world with things happening, rather than just a static environment that you happen to be wandering around. 
Characters also seem to animate a lot better in Red Colony 2  compared to the original. In the first  game, characters moved in a very clunky mechanical fashion, but it doesn't seem as bad here. The zombies still seem a bit off, but at least the damage effects look far better than before. In fact, everything seems to look better than before. Environments on the whole are far more detailed and the visuals seem to pop slightly more . It's not a huge difference, but it is noticeable when compared side by side.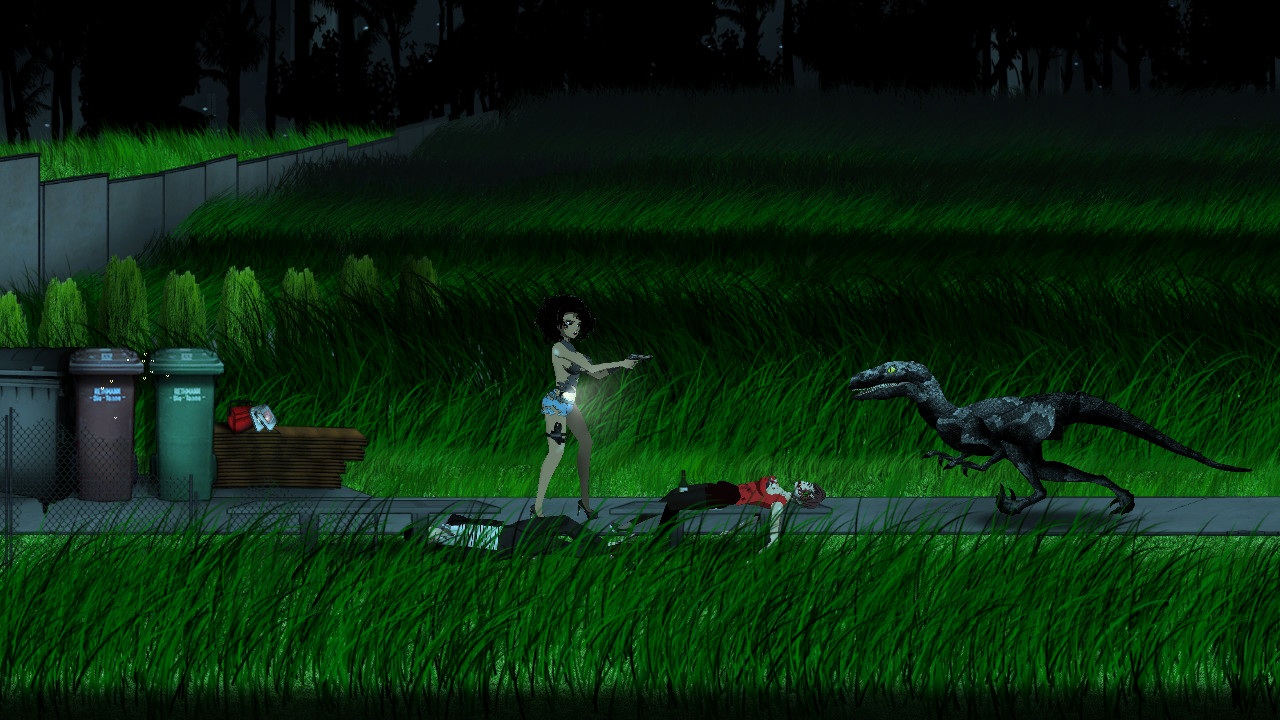 CLEAVAGE CRISIS
If Red Colony was a 2D version of Resident Evil, the sequel is essentially 2D Dino Crisis… or at least that's what the trailer would have you believe. In fact, the game is very much like the first one but with a handful of added dinosaurs. As with the original, Nicole will spend most of her time searching for supplies to keep her going as she finds her way to the prison where her daughter is being held. To get there, she will need to obtain three valve pieces that have been curiously separated. It won't be an easy task though, as the colony requires security passes to access certain areas. She will need to solve a multitude of puzzles in order to make her way through. Compared to the first game, Red Colony 2 has some far more interesting puzzles on offer; they're not extremely taxing, but they certainly require more effort than in the prior title.
Returning from the previous game is the crafting system, which can be used to make guns, ammunition, and even new skins for your wrist device. By finding material out in the world, you can feed it into the 3D printer located in the Red District in order to gain supplies. There's only a limited amount in the world, but there's just enough to see you through – providing that you are careful with your bullets. Combat isn't particularly satisfying, with the guns feeling like they all deal the same damage, but you can at least shoot out lights for a stealthier alternative. It's worth noting that the game doesn't have any bosses, so feel free to use whatever you have at your disposal to clear your way through the undead. You can also use the 3D printer to save your progress if you have a save card handy. These are pretty scarce, but the game is neither long nor very difficult so it shouldn't prove to be too much of an issue  – unless you get mauled by a raptor, of course.
Speaking of which, the implementation of the dinosaurs in the game is done surprisingly well. They were teased in the previous game, but never actually appeared; in the sequel, you'll come across a bunch of these beasts. They're used very sparingly and whenever they appear, there's always a great buildup beforehand. These prehistoric encounters were my favourite part of the game, by far, even though you aren't able to actually fight them. If you see a dinosaur, you need to hide or run: they're fast and will kill you instantly. Don't try and stand up to them, or you'll be in for a quick and painful death. I did encounter a bug with the final dinosaur encounter whereby the game locked up as it ate me, but considering I was dead anyway it didn't matter too much.
Bugs in the sequel are thankfully few and far between. There were a couple of big ones towards the end, but other than that there were only a couple of minor issues that had very little impact. Performance, on the other hand, doesn't fare quite as well. Everything runs smoothly most of the time, but it started to chug in some of the later areas from time to time for no apparent reason. Hopefully these issues can be identified and patched out in a future update.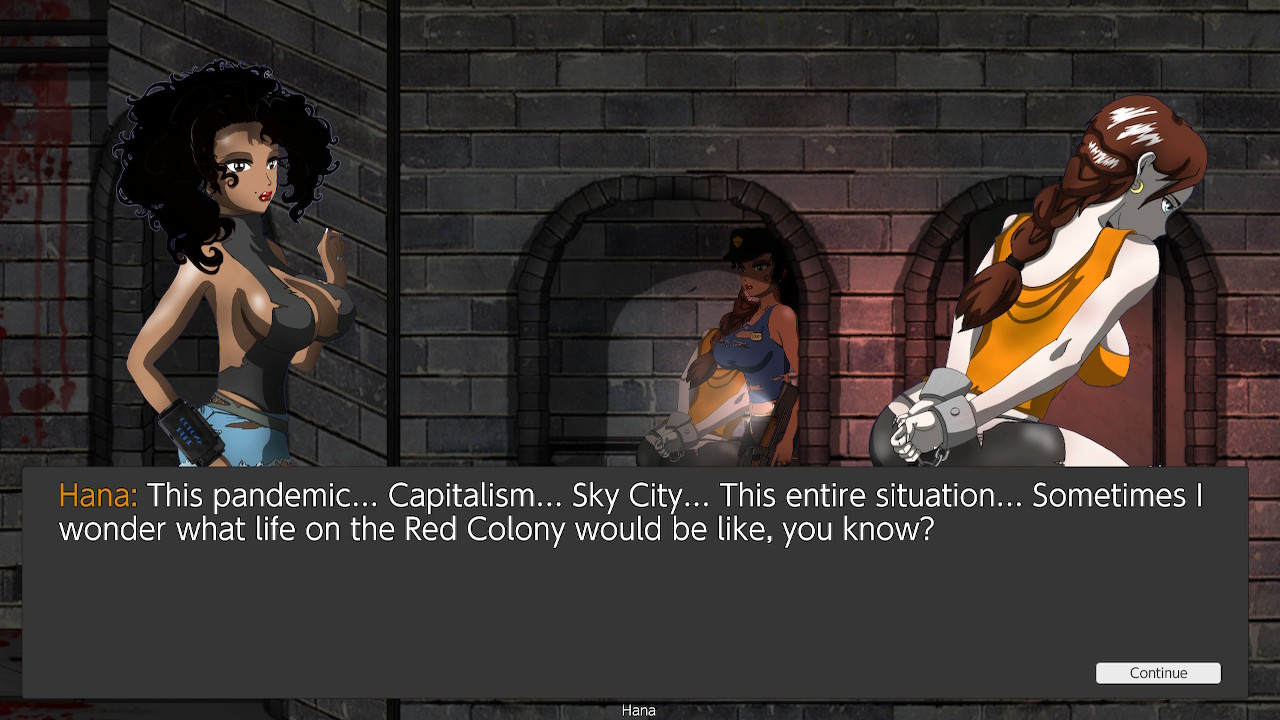 After playing Red Colony, I was pleasantly surprised by it not being terrible; however, it certainly had many issues that made it seem very rough around the edges. I had hoped that the sequel would improve on those issues and – for the most part – it has. It's still not perfect. Combat isn't very satisfying, the game is still a little janky, and the emphasis on sex is a little bit too much. For a budget price though, I think people looking for a cheesy survival horror experience may end up enjoying the game. Just make sure your mother doesn't see you playing it!