This is the story of a man named Stanley.
Stanley worked for a company in a big building where he was Employee #427.
Stanley looked around his office. It certainly wasn't the best room in the building, but it was his room. His table, his chair, his number on the door. He looked around and breathed in the stale air around him. It was comforting in a way, but something was different today and had to find out what it was.
Before he left, however, a strange thought occurred to him out of nowhere, saying:
Many thanks to Crows Crows Crows for the review code.
Stanley wondered what this thought meant. It was a strange thing to think, especially as he didn't even know what a review code was. He disregarded it and looked again at his surroundings.
THINGS SEEM FAMILIAR TO STANLEY
THINGS ARE COMPLETELY NEW TO STANLEY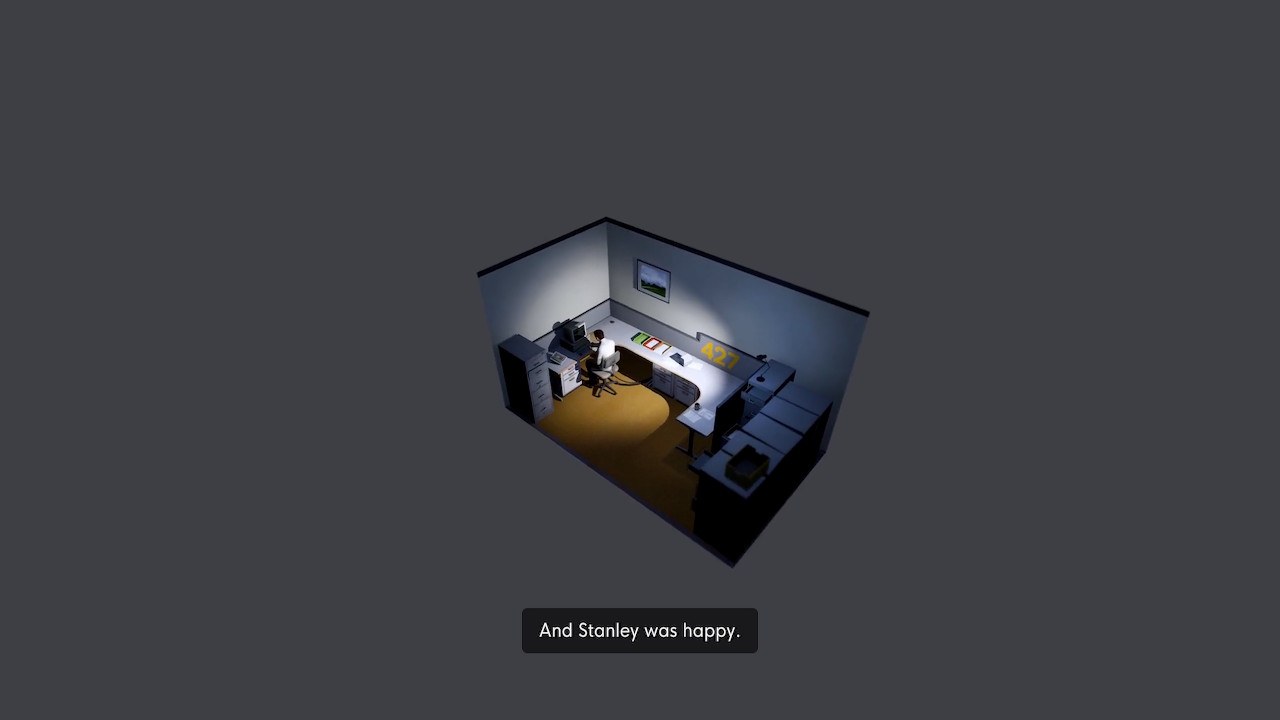 THINGS ARE COMPLETELY NEW TO STANLEY
Everything was new to Stanley, which was strange as he had worked here for the last nine years. It was a curious feeling, but an intriguing one nevertheless. Experiencing his office like it was the first time left him feeling overwhelmed at the prospect of what laid ahead, but this also intrigued him too – especially as he had no idea what the hell he was even doing here.
A comforting voice filled his head. It sounded like it was narrating his life, but Stanley decided that would be impossible so he tried to ignore it. Despite his best efforts, the voice carried on, pushing him forward and trying to guide him through the office. Should he listen to the voice, or should he purposely ignore it? Stanley knew he was a free man and he made his own decisions, but what would happen if he followed this voice? Would it guide him the right way? Would he sacrifice his freedom for the sake of curiosity?
As Stanley sat pondering, the voice continued. This time it seemed to be getting a little tetchy due to Stanley's inaction. It was probably best to find out what was going on.
Stanley walked through the office at a brisk pace. It seemed like he was walking, but didn't at all feel too slow. This was useful as Stanley was completely unable to run. Come to think of it, Stanley couldn't actually do that much: couldn't talk, couldn't jump, couldn't eat – aside from moving and interacting with things, there wasn't much else Stanley could do. That didn't trouble Stanley, as the simplicity kept him focused on what was his important – his journey of discovery, accompanied by that voice in his head.
Stanley looked around. All of his co-workers were gone. There was only him, and the office. He had expected things to look rather bland, but everything looked surprisingly good. Sharp, clear aesthetics with a fair amount of variety made his jaunt rather enjoyable – if a little disquieting due to the almost apocalyptic atmosphere that radiated around him.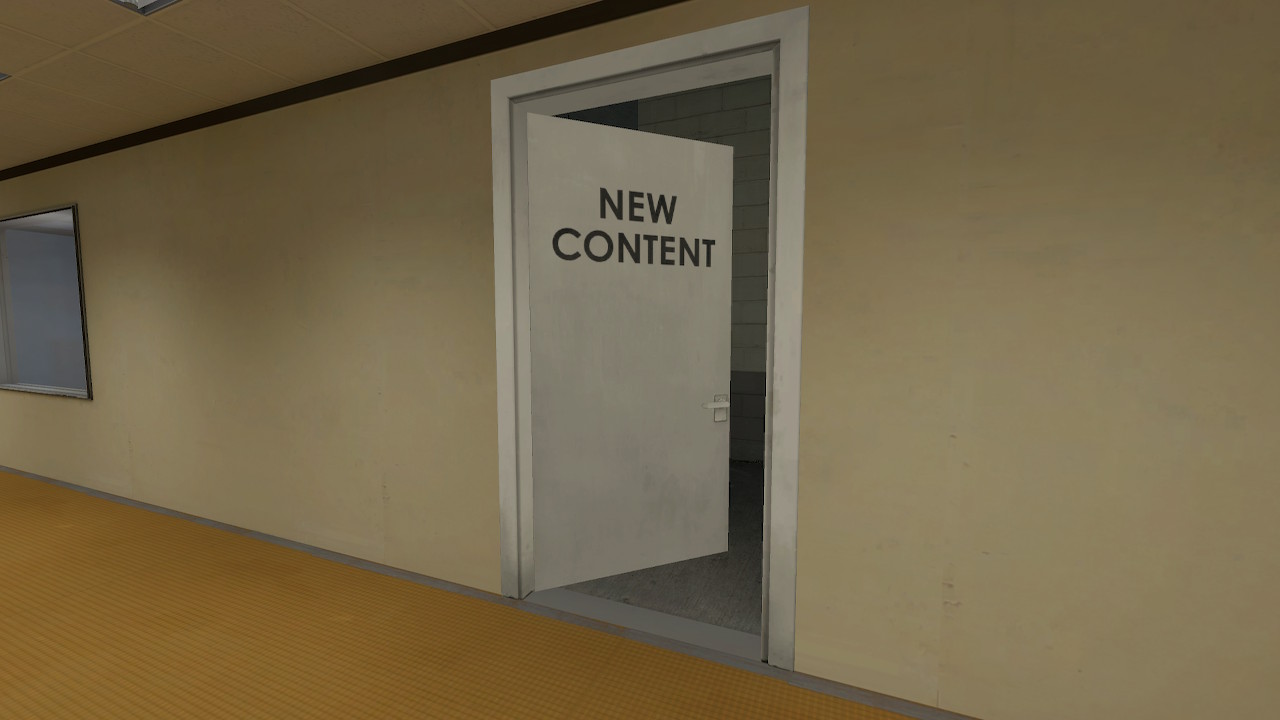 THINGS SEEM FAMILIAR TO STANLEY
Stanley couldn't shake off a feeling of déjà vu, like he'd been here before many, many times. Everything looked the same as always, and that voice was still here. That damn narrator in his head. It always pushed him forward: sometimes he humoured it, but other times he ignored it. The latter option never ended up working, of course – the voice just created a new narrative around his choices. It always unnerved Stanley as he could never decide whether he was acting out of his own free will, or whether the voice actually knew what was going to happen.
That wasn't Stanley's concern today, however, since he was on the lookout for something different. Something new. He had walked this path time and time again, and knew the office so well that its corridors were effectively imprinted into his feet. Stanley took another deep breath and stepped out of his office once more. He was ready for another journey – hopefully a lot more journeys, but he needed something new. Something to give this new day value. Make it worth the €21.99 it cost him to be get here.
Excitement turned into disappointment as he traipsed down the same corridors he already knew, experiencing all the same things. At every turn, Stanley was peering at everything and questioning every little detail. Had that box been there before? Was that picture different? He was grasping at straws and he knew it. Stanley began to feel deflated. He found it all enjoyable, but it always was enjoyable – and he craved more of it. Oh, why wasn't there more!
And that was when Stanley noticed it: the door. The door invited him in with the prospect of new experiences. Of course, Stanley jumped at the chance. At first, he felt cautious with only seemingly underwhelming additions; but as he ventured further into the rabbit hole the more he began to beam with joy at just how great it all was! Stanley loved his original Parable, and this was even more enjoyable. Stanley was happy.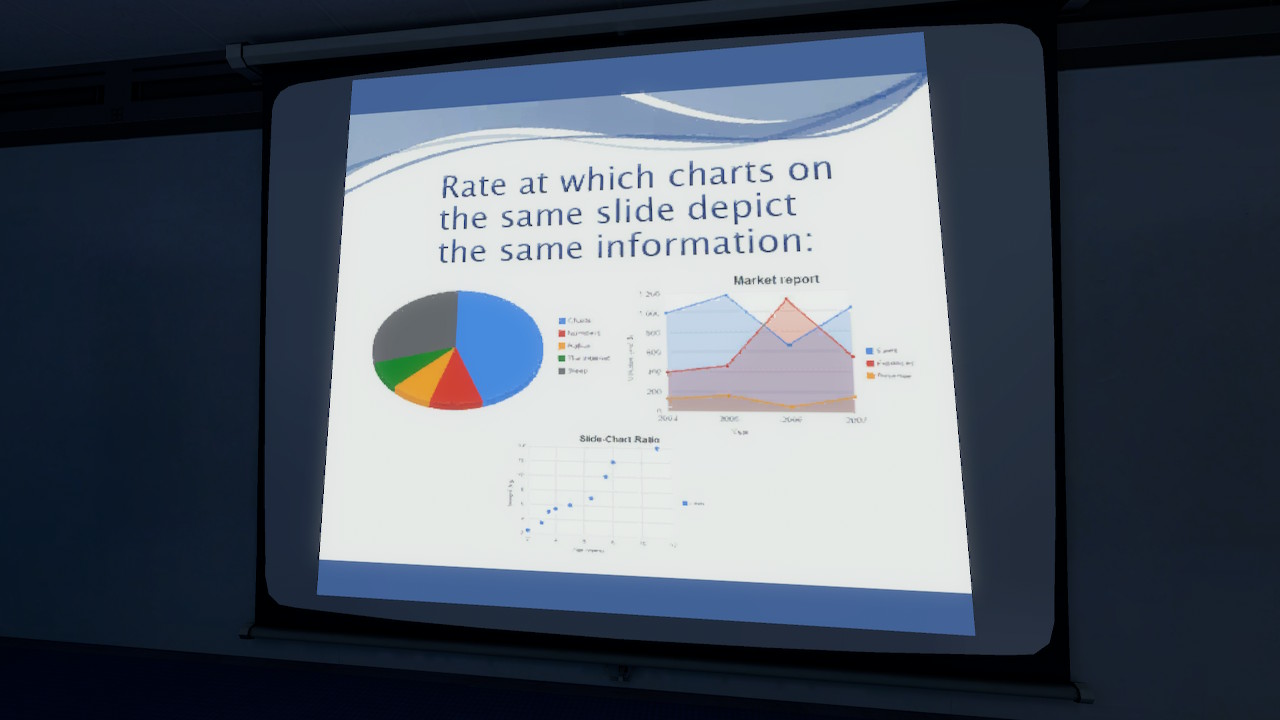 STANLEY WANTED TO ENJOY LIFE
Stanley knew that he had a unique workplace that offered something quite unlike any other. His day might not take long to get through, but there was so many things to find here and so many places to explore. He could probably find at least 20 different ways to end his day, with all of them being quite substantially different to the others. Stanley was an inquisitive sort, and the urge to do everything was insatiable.
What Stanley found most enjoyable though was the level of subversion it offered. Other offices may have you doing similar things, but here things would often happen that he didn't expect – and it surprised him time after time. Whether it was something small like working hard to achieve a feat as simple as trying to open a locked door, or something stranger like getting attached to inanimate objects, there always seemed to be something around every corner.
Stanley enjoyed working here, and he felt like everyone should be able to work here too. Things like colour-blindness, hearing issues, or even just worrying about what buttons to press should not stop people from becoming one of his co-workers and the management had made sure everything was extremely accessible for everyone. It was quite admirable, and Stanley was proud to work here.
STANLEY WANTED TO ENJOY COMPLAIN
STANLEY WAS READY TO END THE DAY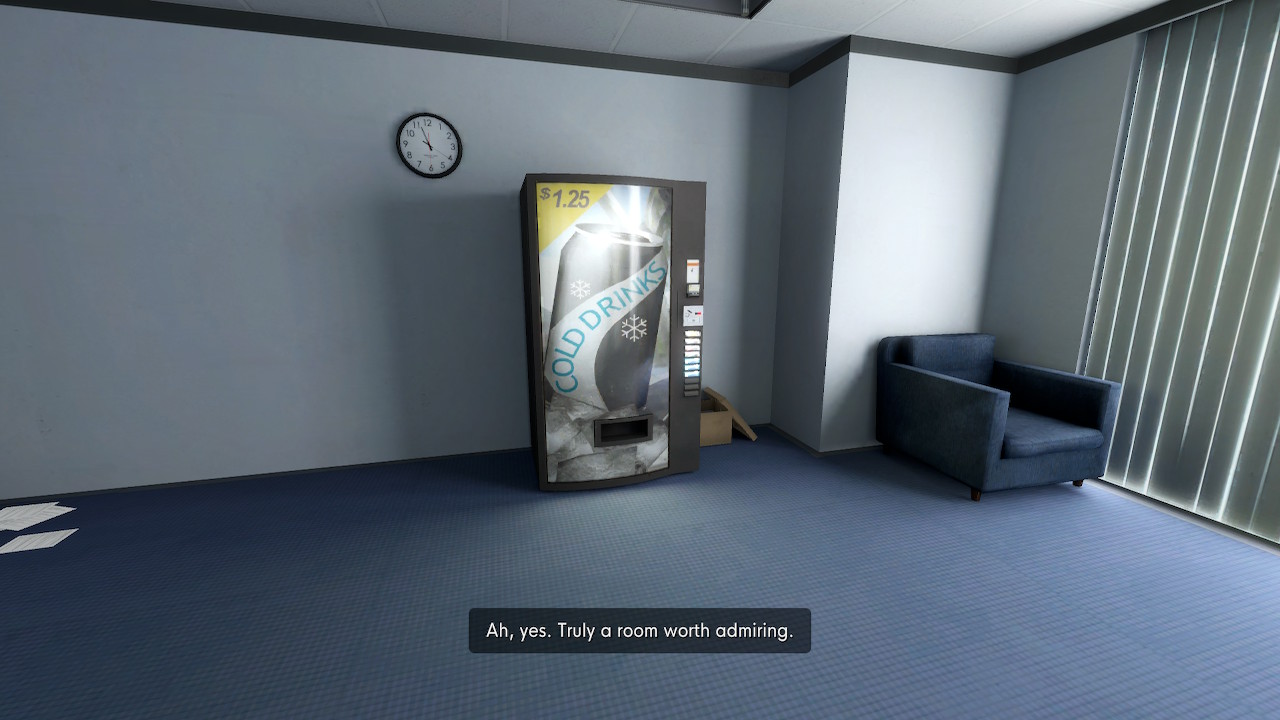 STANLEY WANTED TO COMPLAIN
Even though Stanley loved exploring and listening to that voice in his head, he also realised that it wasn't necessarily something everyone would like. What he found enjoyable, funny, and intriguing could be seen by others as tedious. His day involved walking down a lot of the same corridors time and time again, and occasionally interacting with things. There were no puzzles, just experiencing things as they came. People that enjoyed an action-packed life and didn't care for intelligent and funny dialogue probably shouldn't do Stanley's job. They'd probably hate it.
And as much as Stanley loved his time here, he also couldn't shake the feeling that the cost of getting here was probably on the high side. New workers experiencing everything fresh might not mind so much, but those who had been here time and time again may resent having to pay more than €20. It was a good job – heck, it was a fantastic job – but even the new additions may not be quite enough to satisfy more experienced workers.
STANLEY WANTED TO ENJOY LIFE
STANLEY WAS READY TO END THE DAY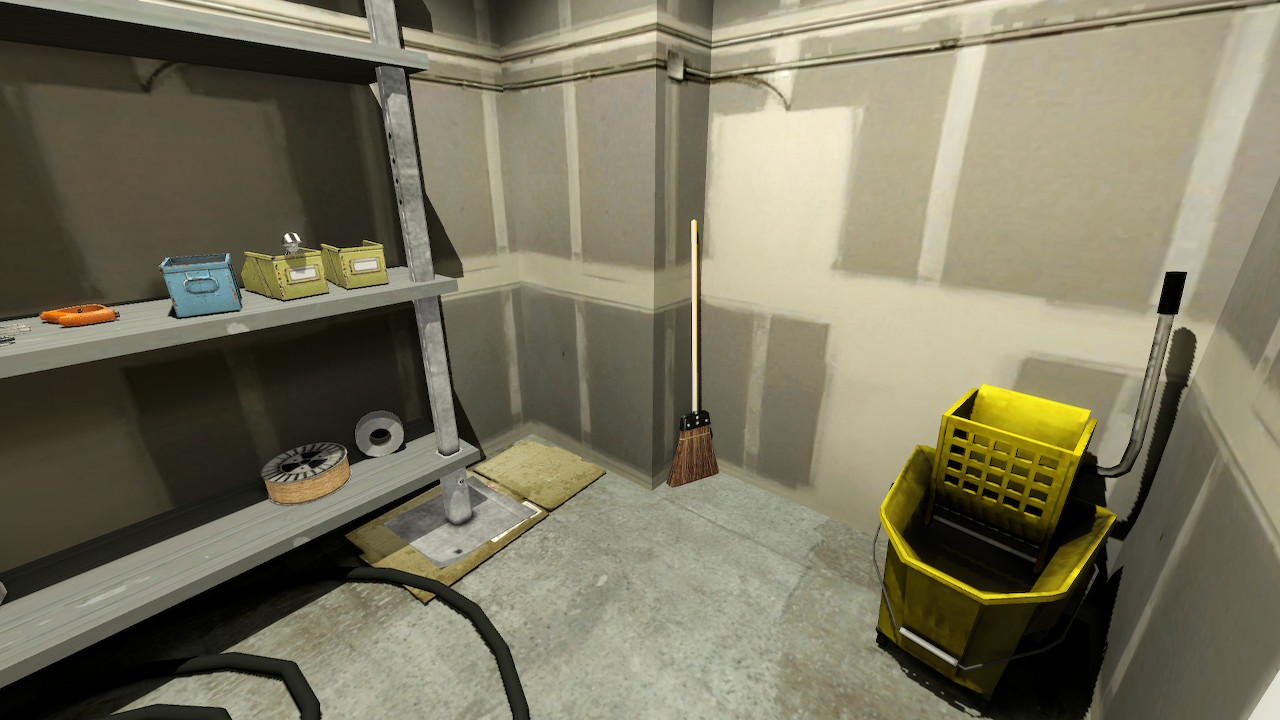 Stop, Stanley! You've gone too far! There's nothing for you here!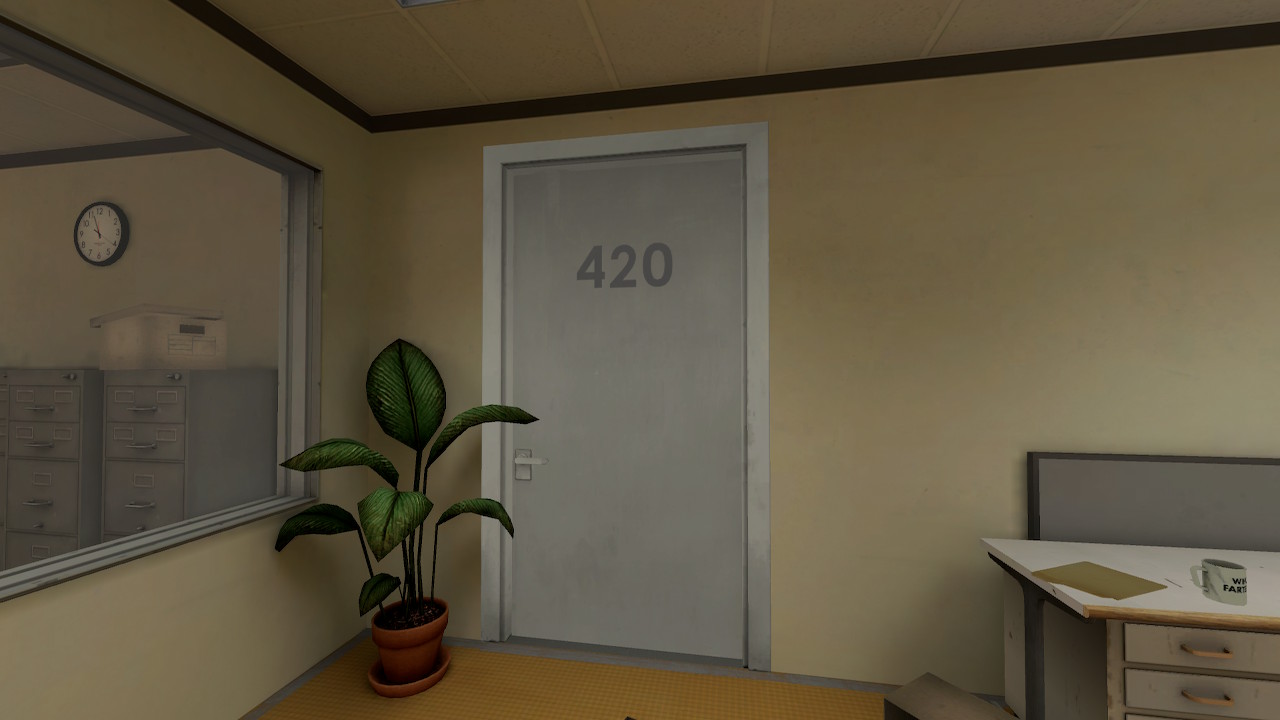 Stanley reflected on his day, and felt happier than he had ever felt. Things were both comfortingly familiar, but also gave him that new experience he was striving for. It was a stroll that perhaps not everyone would enjoy, but he certainly did, and this journey – whilst a pricey one – proved more entertaining than ever before.
Stanley felt a momentary pang of sadness that he seemed to be the only one left in this world, as he had a strong urge to recommend this Ultra Deluxe Parable to everyone.