I believe that we strive to get better and do better – each day, week, year, or by whatever measure one chooses to use. No matter how hard we try there will always be some things that just slip through our grasp; of these things health and relationships are paramount: a relationship that is often a quick snapshot in time, a fleeting memory is the one we share with our grandparents, and so on. The bond between a grandparent and grandchild is not often celebrated, and so it's in this vein that I view Blossom Tales 2.
Many thanks to Playtonic Friends for the review code
A LABYRINTHIAN TALE
This light-hearted indie game starts much like its predecessor, with Lily (the main character) asking to hear another story from her grandfather. The big difference in this game is that Lily is now joined by her brother, Chrys. Both children are now featured in the story their grandpa tells. The story starts with the children participating in the minotaur festival, which consists of a small tutorial that takes the form of mini-games. At this point it is easy to see that Lily is annoyed by her brother, we can assume she didn't want to share this time with her grandfather. As it turns out Lily and Chrys happen to be the final two contestants, and the two will now face off in light combat to determine who will be the festival champion. Lily finally hit her breaking point, when during the combat Chrys faked an injury and surprised his sister with a quick attack. In a moment of frustration, Lily wished the Minotaur Prince would return and take her brother. Instantly regretting her words, the Prince appeared taking Chrys back with him. Lily now has a clear goal: to beat the Minotaur Prince and rescue her brother.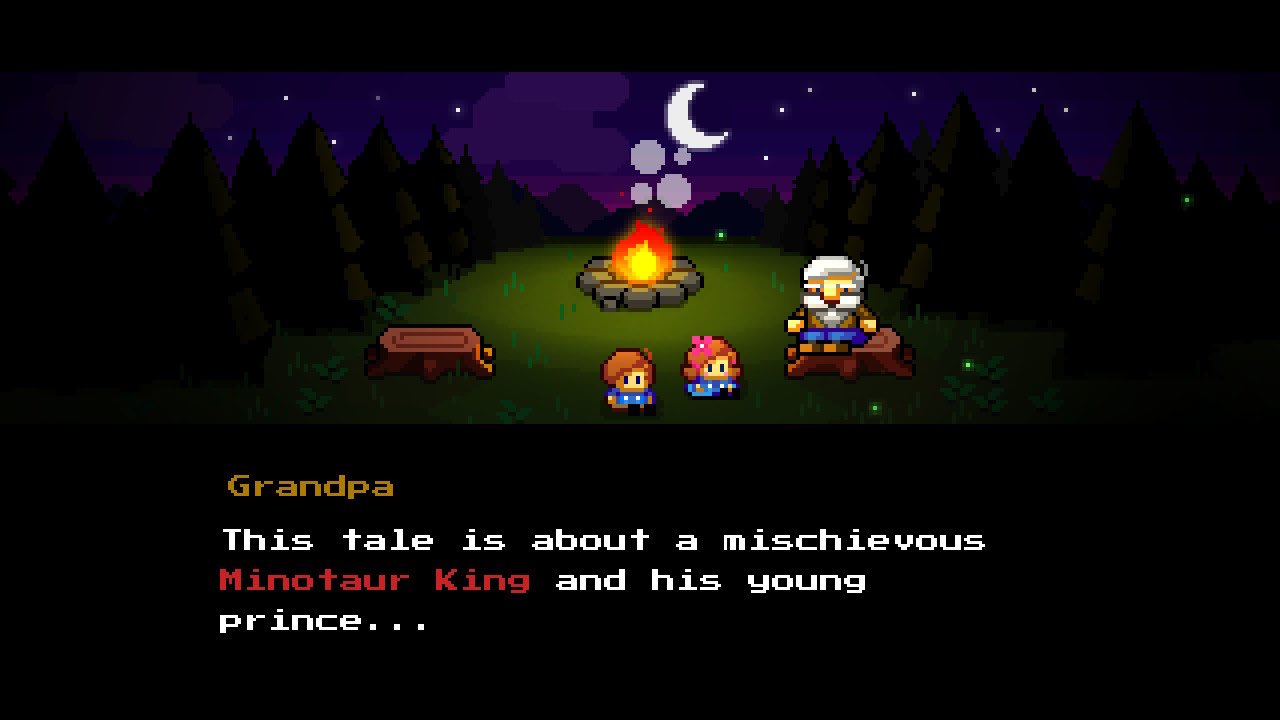 THE LEGEND OF LILY
Lily is aided by a simple yet effective combat system, as this game plays a lot like a Zelda-lite. You have an attack, a dodge and two of the available commands can be used for things like potions, gadgets, or a shield. The combat in this game is relatively easy, in part because of the responsive controls. Many enemies are rarely too difficult to handle even as you explore shrines, caves, and other areas populated by puzzles and enemies. In this game, you also can learn new skills by acquiring scrolls, as well as the many gadgets that will be available to you once unlocked. The combination of fluid responsive controls and a fun dynamic combat system makes exploring shrines, caves, and searching for collectibles a lot of fun.
One thing that makes this game hard to put down is the collectibles, not only are you looking for hearts to expand your vitality or crystals to expand your stamina. You will often find yourself fishing, treasure hunting, being a part-time mailperson, and collecting materials to trade with many of the NPCs. That is only some of the many things to do in this game, but also includes a side mission collecting flowers for a new floral shop which was one of my favorites. I was surprised by how full this game is, not only with main story quests but also the many side quests. The team at Blossom Tales stepped up on this second game, ultimately taking this game to a new level.
It is hard to find many things to complain about with this game, as the performance was impressive. I had no framerate issues, delays, or crashes, and this is before the launch patch. One area that some may complain about is the audio and visual side of things. I love pixel art, although several gamers prefer rounded edges, and detailed characters and backgrounds. If pixel art isn't your thing you may be put off by Blossom Tales 2's retro art style. For me, the only low point of this game is the audio. Don't get me wrong, the music and sound effects aren't bad. I would say the audio is decent but compared to the other aspects of this game it's the dull bulb in a bright room.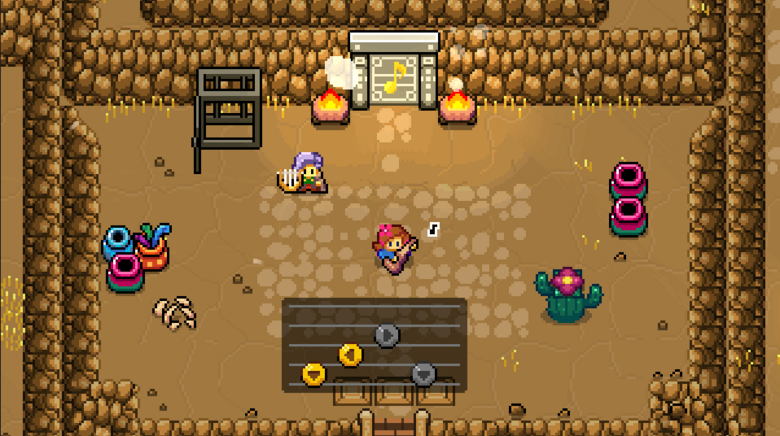 In a year where Nintendo failed to bring us another Legend Of Zelda game, Blossom Tales 2 is a welcome experience. Not only did they improve the "Zelda formula", but Blossom Tales has also become its own game. This is the break-out game for this series, I believe anyone who even somewhat likes the "top-down action adventure games" will love this one. In a time when a lot of companies won't even release full games, it's refreshing to see that some dev teams and companies still care about quality. I believe we as gamers should reward that dedication by buying their games and supporting them. I truly enjoyed Blossom Tales 2.