I'm a huge fan of games doing something completely new. Despite being decades old now (both me and gaming as a whole), it's still surprising at how many creative developers can really push the boundaries of a genre to make something truly unique.  Daniel Benmergui attempted just that with Storyteller and has produced a truly charming and whimsical experience.
WHAT'S THE STORY?
The premise of the game is surprisingly straightforward, putting you in the hands of a storyteller as he reads excerpts that are largely based from famous tales. Each of the game's fourteen chapters are divided into around four or five tales, and you need to assemble them using the prompts provided.
Putting together your story is remarkably simple (even more so using the game's excellent touch screen controls in portable mode), as you simply need to select the type of scene and the characters within it. How characters interact within a scene will depend on both their personality and their current mood with other NPCs, but getting them to do what you want is relatively intuitive. The Butler is a conniving sneak who will stop at nothing to shoot his master given the opportunity to do so; the king, on the other hand, is a friendly soul who would need some type of pushing if he were to kill another man. Setting up these situations is where the true puzzle gameplay of Storyteller lies, and trying to arrange tougher scenarios with the limited requirements is a hell of a lot of fun – even if it never really gets too difficult.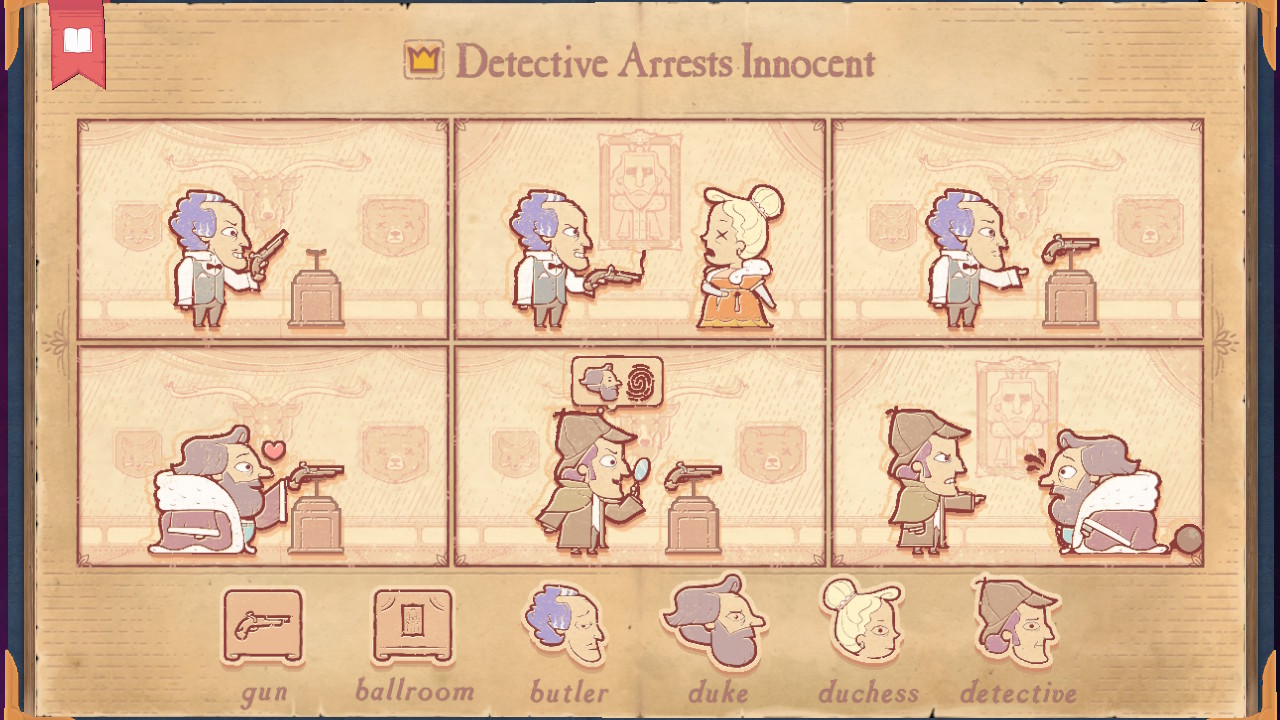 Over the course of the game, you'll find yourself murdering people, eliminating vampires, disguising yourself as a dragon, and so much more. The game is filled with romance and tragedy, and each of the game's characters have very distinctive personalities that help you remember the types of roles they typically play. It's such a sweet game to play and I found it hard to put down due to the sheer amount of joy it produced in me.
Unfortunately, that time spent isn't quite as long as you may like. At launch, the game would probably take around 90 minutes or so to beat, but the post-launch content update effectively doubled that playtime by adding in a load of new levels, challenges, and even some nifty post-game content starring the biggest rapscallion in theatre: the Devil. It's certainly enough content to justify the price, especially if you decide to tackle the other postgame challenge: an achievement system where you can earn stamps by making certain events happen, but you're still likely going to fly through the main game in a single session due to the game's straightforward difficulty.
VERDICT
Having said all that, I'm not sure it really needs to do a whole lot more than it currently does. Storyteller is lovingly crafted with a beautiful aesthetic, unique premise, and wonderful characters. Whilst it will certainly have you yearning for more content, that's only really a testament to just how much whimsical fun the game is.